Modular Displays
Our Standard Modular display range consists of an aluminium framed system called Fusion, which is available in two styles and various combinations. The two styles are Fusion Rapid and Fusion Versa. Rapid is used with rigid graphics and Versa can be used with magnetically attached flexible graphics or rigid graphics, and is available in both straight and curved configurations.
These systems are suitable for offices, receptions, exhibitions, museums, foyers or any average sized display area, completely modular these systems can be broken down and assembled in minutes.  The flexible graphic option is more portable than the rigid panel system, both come with high quality digitally printed graphics.
Larger Modular displays / Exhibitions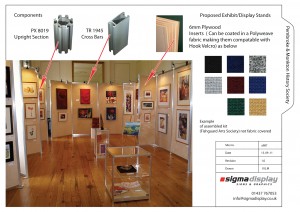 For larger display areas, exhibitions or custom builds, Sigma Display can design, produce and install a modular system called Sodem.  This system is extremely versatile and has multiple configurations to produce display's of almost any size.  From a basic shell scheme to gallery display or custom exhibition or museum display.